Impractical Jokers: The Movie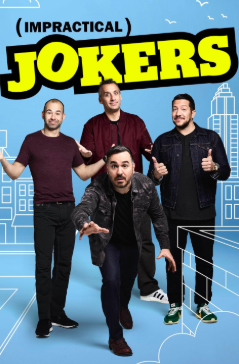 Earlier this month, the popular TV show "The Impractical Jokers" realized a trailer for their upcoming movie. The movie will be released into theaters on February 21, 2020. The movie is R rated, because on their TV they have to censor some actions and language. The new movie is a comedy genre. The movie is directed by Chris Henchy and the Jokers themselves who are Sal, Joe, Q, and Murr, A.K.A The Tenderloins!
The Impractical Jokers have a total of an 8 season show. Everyone first met the Jokers on December 15, 2011. In the past 9 years, the show has created new ways to bring smiles on everyone's faces. Many people are waiting as the days pass by until the movie comes out. 
I asked a fellow student at PGHS four questions. Her name is Haley Kraisley. She is 10th grade. When did you start watching Impractical Jokers? Who is your favorite Joker? What was your first reaction to hearing there will be an Impractical Jokers Movie? Are your excited for it to come out? Haley says that she first started watching Impractical Joker one or two years ago. Haley's favorite Joker is Sal. Her reaction to the news and the trailer filled her with excitement and thought the trailer itself was filled with its laughs. For the final question, Haley is very excited for the movie to come out so she can go see it with her friends or family.
Who else is excited to see this movie that will be filled with laughter and jokes? If you have watched the TV series then you'll get an understanding of what the movie will be about. I can't wait to see you all in theaters!