Buffalo Chicken Mozzarella Sticks RECIPE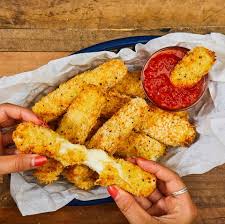 Love buffalo chicken anything? When it comes to this type of food, the recipe ideas are endless. In this recipe, we will be examining buffalo chicken mozzarella sticks. Even better, it is super easy to make. 
Start by lining an 8 by 8 inch baking pan with parchment paper. With a large sized bowl, combine cream cheese, shredded chicken, hot sauce, mozzarella cheese, cheddar cheese, and ranch dressing mix. Take this mixture and spread on baking dish. Make sure it is evenly distributed throughout the pan. Take the pan and freeze for one hour. Before taking them out, prepare in three medium sized bowls six beaten eggs, three seasoned bread crumbs, and two cups of all purpose flour. 
After freezing for one hour, take the pan and flip it over onto a cutting board. Cut it into 16 individual pieces. Take the pieces and coat each stick in all the bowls. Place in a large pot filled with peanut or vegetable oil. This should be heated at 375F/190C. 
Lower three to four sticks into the pot and fry for thirty seconds, or until golden brown. Serve warm with ranch or desired condiment! 
For the sticks:
8 ounces (1 stick) of cream cheese, softened

2 cups cooked and shredded chicken

½ cup of buffalo sauce

2 cups of shredded mozzarella cheese

1 cup shredded cheddar cheese

1 ounce of dry ranch dressing mix, 1 packet
The coating: 
2 cups all purpose flour

6 eggs 

3 cups seasoned bread crumbs 

Peanut or vegetable oil
You can find the website of this recipe at https://tasty.co/recipe/buffalo-chicken-mozzarella-sticks
Leave a Comment