Interview with Ms. Prasch
More stories from Haley Trump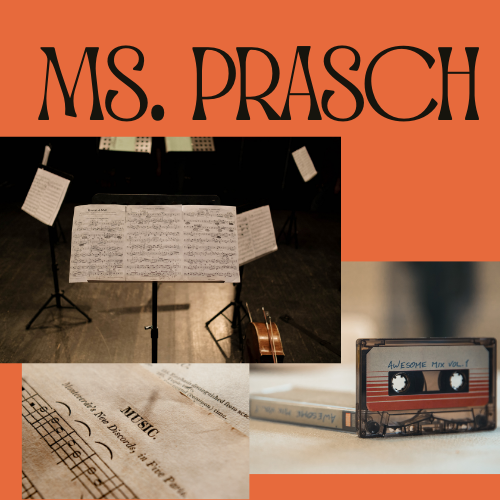 During this new year, the choir director and PGHS music teacher, Mrs. Fritshaffer, had gone on maternity leave after having a baby. There were two people that were interviewed. The music and general department, along with students sat in the classroom during choir class and let them do what they pleased. Unfortunately neither of them could attend, but in such a short time span that was left, they hired Ms. Prasch. All the students were nervous due to the fact they did not meet this teacher, but they were very fortunate that they were able to have a music director. I interviewed Ms. Prasch to learn more about her and how she is doing this school year so far. 
What day did you start? 
February 2, 2023
Where did you go to school and what did you study?
West Chester University for Music Education
What do you most enjoy about teaching new students?
Teaching them to empathetically and emotionally experience music beyond its theory. Empowering them to observe, analyze, and synthesize its intricacies to make the music mean and matter to them. I teach music, I just put up with choir.

Were you nervous about starting this job on such short notice?
YES! I didn't have keys for a week! Musically, I am a percussionist, not a singer! I'm a terrible piano player, and I also never used Apple devices or GarageBand. (I do try to lend my performance experiences as an entertainer and photographer as well)
What are you going to miss most when you leave?
The students.
What is your favorite music piece the choir is performing and why?
For Concert Choir: Sweeney Todd Medley- I love medleys, Sondheim is probably my favorite musical theater composer, and the show is currently running on Broadway! Then for Chamber Choir, the show choir program (One Day More, Barbara Ann, and Six Finale). While "classical" pieces are the works that develop competent musicianship and expressive musicians, musical theater is total theater (what you hear, what you see, what you feel—) and also romantically bridges additional performance mediums such as characterization and dance. (By romanticism, I mean depicting "life as it should be")
Leave a Comment