Color Day Banners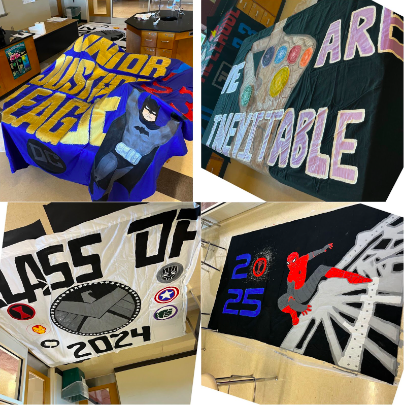 Color day is back! Last year with school over zoom due to the COVID-19 pandemic, color day was also very abnormal. Each year color day is held in the gym and everyone piles in and has a great time, but last year, color day was held outside and had a pretty low attendance, so everyone can't wait to get back into a normal color day in the gym! 
Every year each grade will wrangle up a group of students who are dedicated and take time out of their school day and even personal time to work on banners that represent their class' theme. I was lucky enough to get to hang out with the different grades and see all of their ideas for their artwork on the banners. This year, with the seniors picking "super villains" as their theme, everyone went with a superhero/Marvel/DC type of name for their class. Some seniors working on their banner this year include Abby Hakes, Keira McDevitt, Wyatt Lear, Kaitlyn Mayberry, Olivia Shuster, Alexa Baker, Maggie Galvin, and a few more students who have popped in and out of the room. Both of the senior banners this year are black, featuring a few painted-on villains like Harley Quinn, The Joker, etc on the larger banner. The smaller banner that everyone holds features Thanos' gauntlet with the quote "we are inevitable". Senior Abby Hakes thinks that "the seniors are definitely going to win the banner this year, I think it looks really great". Good luck class of 2022!
The juniors following suit with the superhero/supervillain theme went with the name "junior Justice League". Some juniors working on the banner this year include Leah Srour, Paige Glass, Peyton Kelly, Ben Drago, and a few others. The juniors went with more of a bright and colorful choice using blues, reds, and even some gold in their banners. They have been working so hard on their banners every day for the past couple of weeks and we can't wait to see the outcome! Good luck class of 2023!
Following the theme, the sophomores chose the name "sophomore shield". Some regular students that worked on the banner included Nicole Lockey, Katie Raggazino, Baleigh Richard, Mikayla Eckman, Ella Smith, Raelyn Eisenhard, Caitlyn Ward, Nduati Michuki, plus a few more students. The sophomore class chose to go with a white background for their banner and had a few superhero/Marvel-themed logos painted around the large words "Sophomore Shield". "Everyone has been working so hard on these banners and I can't wait to see what they look like in the end and I know the sophomores are going to kill it on color day!" says sophomore, Nicole Lockey. We can't wait for these banners and good luck to the class of 2024!
This year the freshman class chose the name "Freshman: Far From Home". The freshmen went with black banners and used colors like red and blue to go with their Spiderman theme. One banner features a large spider logo and the class name, while the smaller banner features their graduating year and another spiderman logo. Some students who worked on the banners include Savannah VanHorn, Abby Baker, Emily Gomez, Jacob Rowe, Jacob Love, Lauren Vaughn, and a few others. We all can't wait to see what the end result of these banners looks like after all of their hard work. Good luck to the class of 2025!
Everyone has worked so hard on these banners and we cannot wait to see which class pulls out the win! Good luck to each class on color day in each and every event of the day!