Pottsgrove Graduation 2022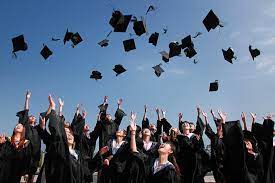 June 10, 2022 will be the official release for all Pottsgrove students! Seniors will say goodbye to their last four years of high school and freshmen will say hello to their new school. To graduate you must have four English credits, three mathematics, three science, four social studies, two arts and humanities, 1.49 health and PE, and six electives. Besides all the grading parts of graduation, you have the farewells. 
Graduation is a sentimental topic for most people knowing it's the beginning of a new chapter in your life. You move on from your childhood friends and say goodbye to your childish decisions. You take a big step and start your career path. Saying goodbye to so much can be harder than we imagine, but it's also really exciting.  
Carlee Dattilo, a senior at PGHS says, "I'm honestly ready to leave. I'm ready to get out, I'll be four hours away, and I can't wait." Some students don't realize graduation isn't just a goodbye, it's a new beginning. You get to start whatever life you want after those four years without anyone on your back. You get to make more decisions on your own and not have to worry about school or grades. 
There's mixed feelings about graduation, but overall it's a memorable moment. Good luck to PGHS class of 2022 seniors!