Christmas Vacation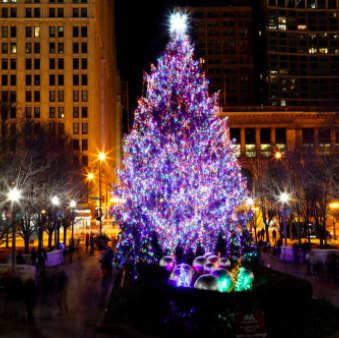 It's the holiday season and Santa Claus is coming to town real soon! Putting ornaments on the tree, stringing up lights everywhere, listening to Christmas tunes to get you in spirit. All of that is great, but think about going on a holiday vacation! This is the most wonderful time of the year to go on a trip.
According to goodhousekeeping.com, one of the many places you can spend your holiday vacation is New Orleans, Louisiana. There, they have amazing light displays, bonfires where you can make smores and let the chocolate melt all over, and so much more! Speaking of chocolate, there is a place that's full of it that the whole family can enjoy. That place is Hershey, Pennsylvania.  More specifically Hershey park's Christmas Candy lane. There, you can go on fun rides, meet Santa and his reindeer, and view the absolutely beautiful over five million lights strung up all around the theme park. It's like a magical wonderland of lights!
Now, there are so many places but another one within the many is Chicago, Illinois. Here, you can visit the Christkindlmarket, you can ice skate at Maggie Daley Park, and even better, you can go to their Christmas tree exhibition! 
The holiday season is a time meant for families to get together and spread their holiday cheer! What better way to celebrate than to go on vacation and make christmassy memories you will never forget!