Easy College Meals 
January 29, 2020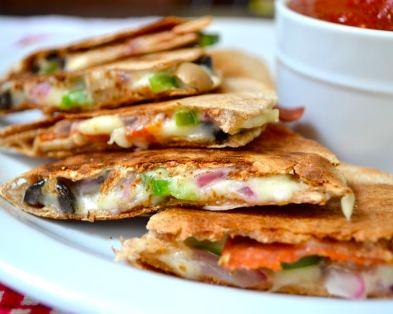 With graduation right around the corner, many seniors are awaiting their future. Deciding what school to attend, who your roommate should be, and choosing your meal plan is a lot of stress. Luckily, I can take one of your worries away! With these easy college meals, we can get you fit and healthy! Here we have Pottsgrove's senior, Mya Krueger's, favorite amongst the list, Pizzadillas! 
Pizzadilla Ingredients: 
6 10-inch flour tortillas 
2 cups shredded mozzarella
2.25oz can sliced black olives
Instructions:
To start off this amazing meal, thinly slice the vegetables and drain the mushrooms and olives. 
Next, for each separate Pizzadilla, measure ⅓ cup of shredded cheese. Take a tortilla and sprinkle the cheese over one side. Add the toppings and sprinkle the rest of the cheese on top of that. Fold over the other half of the tortilla.
In a prewarmed skillet (medium heat), place the pizzadilla in the skillet and cook until brown and crispy on the bottom. Carefully flip it over and brown the other side. One both sides are equally browned and the cheese is melted, carefully slice the pizzadilla into thirds with a pizza cutter. If you wanted to add some more flavor you can dip it into your favorite pizza sauce!
And there you have it! An easy, yummy, creamy, delicious pizzadilla! To all the seniors out there, I hope this is easy and helpful! 
Credit to: https://www.budgetbytes.com/pizzadillas/