Staffulty Highlight: Ms. Compton!
March 15, 2021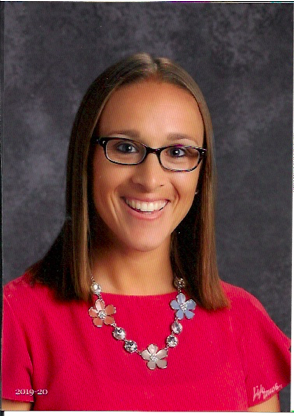 This month we have wondered what it is like to be a teacher during this pandemic, so we surveyed Ms. Compton to know her thoughts. Ms. Compton is a 9th grade Algebra teacher who obtained her teaching degree from Saint Francis University in Loretto, Pennsylvania. She has been teaching for nine years.
What do you think of the hybrid program so far?
So far, I think the hybrid program is great! Allowing students to come into the building 2/4 times a week helps build a strong student/teacher connection, and puts the students back in their "comfort zone". 
Do you think it's hard teaching online? If so, why?
Learning a new skill is always difficult at first, but it broadens our knowledge on instructional strategies. Everyday, as a teacher, we are learning new things, and improving our skills to teach our students virtually. Somedays teaching virtually is a challenge and each challenge we face as teachers, provides a new opportunity for learning.
If you could do anything to improve virtual teaching, what would that be?
If I could improve one thing about virtual teaching it would be to encourage students to connect more with their teachers, but also to step out of their comfort zone and start building relationships with classmates. All the students at Pottsgrove High School are in this together, and I would love to see students coming together to figure out how to make the virtual learning world, more interactive, more lively, and more dynamic!
What is your favorite thing about Pottsgrove?
I love the community environment at Pottsgrove High School! Creating a rapport with students, and helping them build toward their future goals, is one of my favorite things about being a high school teacher. 
Is there anything else fun about you that you'd be willing to share with us for the online newspaper?
In the last year, due to COVID-19/quarantine, I have taken time to learn some new hobbies and create healthy routines in my everyday life! I encourage all students to take this time to focus on something new; learn a new skill, try a new hobby, or establish a new routine in your day! Life has slowed down a bit since March 2020, and it can teach us all to appreciate the small things, and take time to do things that make you happy!