The SunnyBrook Ballroom Hosts Drive-In Movies
January 25, 2021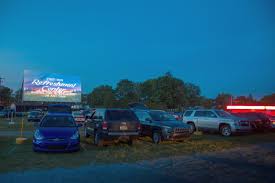 Ever since Covid-19 started, movie theaters have been closed, preventing people from seeing movies in the way they once did.  Since then, the SunnyBrook Ballroom has been hosting drive-in movies, bringing back the "old-timey" feeling.  Previously, SunnyBrook Ballroom had featured a new movie every weekend.  Now, SunnyBrook allows people to hold their own drive-in movies.  People can host their own film, tv show, or livestream at Sunnybrook for events that they choose.  
Sunnybrook hosted a fundraiser for the fight against blood cancer on January 16th.  The fundraiser showed the movie, The Incredibles. The Students of the Year Campaign is to both raise money for the Leukemia and Lymphoma Society and to bring awareness to blood cancer.  The proceeds went to Leukemia and Lymphoma Society, and their mission to find a cure.  
Other movies that Sunnybrook Ballroom has featured are The Grinch, Bad Moms, Little Women, Back to the Future, and Jumanji.  Complying with social distancing, the Ballroom allows for food orders using a mobile app and "car-side delivery" for food and drinks.  Lily Guerrette, a student at Pottsgrove High School says, "I would say the experience was an incredible way to get out of the house while staying safe and it made me happy to see other people together outside again."  Overall, the SunnyBrook Ballroom has given not only children, but everyone, a chance to enjoy the sentimental moments of drive-ins.