Spooky Recipes: Witch Finger Cookies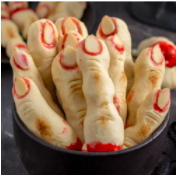 Witch Finger Cookies: 
Ingredients: 
Vegetable Oil cooking spray 

2 cups of All-Purpose Flour

1/2 teaspoon of Baking Powder

1/4 teaspoon of Fine Salt 

1 stick or 1/2 cup of room temperature Unsalted Butter

1 cup of Sugar

1 large room temperature egg

1 teaspoon of pure Vanilla Extract

28 large sliced almonds

1/2 cup of Raspberry Jam
Steps:
   From Giada De Laurentiis on Food Network you're going to want to start by placing an oven rack in the center of the oven and preheat the oven to 325 degrees F. Spray a rimmed baking sheet with vegetable oil cooking spray and set aside.
   Next, in a medium sized bowl, whisk the flour, baking powder, and salt together. Then set the bowl aside for later. Next, in the bowl with a stand mixer, beat the butter and sugar together until light and fluffy. For about 2 to 3 minutes scrape down the sides of the bowl with a spatula as needed. Beat in the egg and vanilla until it turns smooth. Next, gradually beat the flour mixture until it turns into a dough form. 
   Next, using 1 1/2 tablespoons of dough at a time, roll the dough into 5-in-long fingers 1/2 inches thick. After making the dough finger firmly press a sliced almond into the end of each finger to make finger nails. Then make several horizontal cuts 1/4 inches deep and a 1/2 inch long in the middle of each finger to make the knuckles.
   Next press the dough on either side of the cuts to form a knuckle shape. Then place the fingers on a prepared baking sheet and bake for 16 – 18 minutes until light golden. When they're finished baking, transfer the cookies to a wire rack and let them cool completely. 
    After the cookies have cooled completely, heat the jam in a small saucepan on low heat for about 2 minutes until warm. Finally dip the ends of the fingers in the warm jam and enjoy your finger cookies.